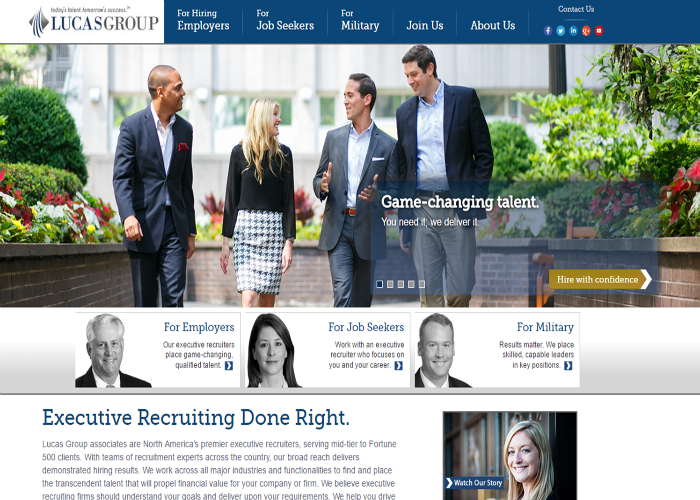 Are you a professional who is seeking the help of an executive search firm like the LucasGroup.com?
Sure, Yelp.com and other online review boards can give you some perspective on what you should do next to ensure your upcoming executive job search is handled correctly. Though, a third-party review like this one just might give you the service reviews you need to make a decision on whether you should work with them.
So, let's get started…
Why Use an Executive Search Firm Like Lucas Group Recruiting, Instead of LinkedIn or Some Other Online Tool?
The brief answer to this question is this: executive search firms can extend your professional reach/network.
As an individual, you only have so much "reach." By soliciting the help of a search firm, such as LucasGroup.com, you're essentially tapping a much larger network to better refine your job search and career goals.
Does The Lucas Group replace LinkedIn? Absolutely not. LinkedIn has its place with employee recruitment and placement. And, the Lucas Group has its place with employee recruitment and placement — and comparable to high-profile employment agencies, such as Robert Half, Spherion, Adecco and Kelly Services.
Who Lucas Group Recruiting Is
Lucas Group is hardly a "new kid on the block."
In fact, the company has been around since 1970 … and if you know anything about the recruitment and employee search industry, you know that recessions tend to hit this industry hard.
The company has offices throughout the US (e.g. Houston and Chicago), including a branch just South of me in Cincinnati, Ohio.
Recruitment Firm For Managers & Executives
Like many other search firms, Lucas Group recruits executives from an array of different industries and job functions, including accounting, financial services, human resources, IT, legal, manufacturing, marketing, military, and sales. In fact, it seems like few search firms narrowly specialize these days. Though, I did notice that amongst the company's 300+ executive search consultants and partners — including Cindy Lucas, John Quinn, and Mark Sanborn —many of them have solid industry backgrounds and most likely recruit executives that align with their industry experience.
Locating high-level and attractive five-figure and six-figure salaried jobs via Lucas Group isn't difficult using Indeed's company page for the company. The firm offers various job roles, such as sales, software development, management, human resources, legal, marketing, and technology.
Recruitment Firm For Military Professionals
I particularly like that Lucas Group focuses on recruiting military transition candidates (military to civilian and military.hire jobs). The search firm has placed thousands of senior military officers and non-commission officers (NCOs) after their retirement or separation from active military duty. I'm all too aware of how the military's transition assistance program (TAP) can be less than satisfying, so having an additional resource to rely on like the Lucas Group can certainly be welcome.

Submit Your Resume Today
You can submit your executive resume very easily to LucasGroup.com. Note that the company has a slightly longer resume submission process for military candidates.
Lucas Group Job Openings
Click here to search jobs through Lucas Group on Indeed.
Online Reviews of The Lucas Group
Unfortunately, online reviews for Lucas Group recruiting are not entirely favorable. Here are 3 observations/responses about these online reviews:
First, some folks over at Yelp.com had harsh words to say about the company … though, one or two of the negative reviews were about spam received from the company, which could have been easily remedied with this simple 5-second task: clicking "unsubscribe."
In case you're wondering … email service providers have made "unsubscribe" buttons mandatory for business emails. For companies like LucasGroup.com to comply with the CAN-SPAM Act of 2003, they MUST provide recipients with the ability to unsubscribe and stop receiving any email from the company. In fact, Google (and possibly others too) are now making unsubscribe even easier by placing an unsubscribe button at the top of emails.
In fact, Google (and possibly others too) are now making unsubscribe even easier by placing an unsubscribe button at the top of emails. From what I understand, you don't need to unsubscribe from those unwanted emails because Google does it for you.
Second, I would argue that those who left a negative review of Lucas Group weren't a good fit for the company. Top-performing executives are most often "doers," not "complainers," which gives a reason as to why those who left a negative review of the company were not a good search candidate that warranted placement. No?
Third, another reason (I believe) for the negative Yelp/online reviews is because people have the WRONG IMPRESSION of what search firms like Lucas Group actually do. Unfortunately, I think too many executives think all they need to do is submit a resume and sit back with their feet up.
Ummm … no.
Here's what you should know about search firms, so you don't find yourself unnecessarily dissatisfied by Lucas Group — or any other executive search firm out there.
Why Companies Use Search Firms
Companies use executive search firms to help identify a select number of candidates for a position, saving them the time and expense of advertising the position widely and, sometimes, conducting pre-screening. Search consultants are looking for someone who has the best skills, experience, and personality to fit the position. Depending on the type of search firm they choose to work with, a company only pays when a successful placement is made and the candidate is hired (and stays employed for a pre-determined amount of time).
Search firms also are often called upon to place candidates in contract positions — either jobs that will be converted to permanent roles eventually (or once the right candidate performs well in the role), or short-term positions. These opportunities are often not advertised by hiring companies directly.
---
ADDITIONAL RESOURCE: Find out what recruiters/search consultants really mean when they say things like, "We're still interviewing other candidates" and "We'll keep you in our database." 
---
Why Executives May Prefer Working With a Search Consultant
Executives may also prefer to work with a search firm rather than a hiring company directly because the firm can sometimes provide additional insight and guidance that will help the executive get the position, based on conversations the search consultant had with the hiring manager. The search consultant may also identify weaknesses the candidate has, and work with you to strengthen those areas.
For example, if you are not a strong interviewer, the firm may be able to help prepare you for interviews, including conducting mock job interviews. (Not all search consultants will provide this service, however. Some search firms may point you towards outside resources to help you work on these weaknesses. Don't expect your search consultant to be your career coach.) The search consultant may also be able to provide valuable insight about the target company, salary range, and position qualifications that a professional is unable to obtain from a job posting.
Some companies advertise positions themselves but are also open to hiring candidates submitted by search consultants. However, this is rare, as the major reason to use a search firm is to conserve the company's resources and focus on hiring the right candidate.
The Search Firm DOES NOT Work For You
This simple fact, the search firm doesn't work for you, can be the hardest for some executives to accept.
Remember too that search consultants are often working on numerous search assignments simultaneously. Many executive search firms require a minimum number of successful placements each month to keep his or her job. Consequently, be mindful of this.
Search Firms Should Only Be One of Your Legs
In business, we learn about legs. Okay, not literally legs, but "business legs" to stay successful.
Well, a search firm should only be one leg of your 3-legged stool. This means, don't expect to send your resume to sites like lucasgroup.com and then expect this one-legged job search to remain upright.
Not going to happen!
Here's something else to consider…
You can — and should — work with multiple search consultants (2-3) at a time. Search firms often have a relationship with many companies — but certainly not all companies in an industry. So working with a few search firms simultaneously can help you be exposed to multiple opportunities. But make sure you let your search consultant know who else you are working with — and what companies they are submitting you to.
Remember, search firms get paid by a company for filling a position, so they don't work for you — they work for the employer paying their fee. Working with a search consultant is just one component in a well-rounded job search (along with networking, direct contact with employers, and other methods).
Fulfillment of Search Assignments
Search consultants are often working from very specific search assignments where the employing company's criteria are well-defined. Therefore, they are looking to find candidates with those specific qualifications, not someone with an interest in the field. The better your credentials meet the search assignment specifications, the more likely you will be considered as a candidate, and the more likely you will be successfully placed in the role. If you are looking to make a career change, working with a search consultant isn't likely to be an effective strategy.
Things To Watch Out For With LucasGroup.com — or with any other executive search firm
You may hear horror stories from other professionals about experiences with their search consultant. Because contingency search firms* only get paid when a placement is made, some search consultants may waste your time with positions that aren't a good fit, or pressure you to take a job so they can make a fee.
*Definition: Contingency recruiters are paid only if their candidate is placed — they compete with other recruiting firms (and sometimes internal recruiters at the client company) to make a placement. Approximately two-thirds of recruiters are contingency recruiters.
Another common search issue is executives who respond to job postings for positions that don't exist. This can be a way for a search firm to build up his or her database, but it's frustrating for executives.
Job Search Exclusivity Agreement
Be careful what paperwork you sign. Some search firms want "exclusivity" with your job search, meaning that if you end up getting hired for a company they've had contact with (even if they weren't involved in your specific job search), they may contact the employer and make a claim for a commission, and use the contract you signed as proof of what they are due. This can result in unnecessary hassles for you and your new employer, so make sure you carefully read any paperwork you're asked to sign.
More often, however, the reason for a mismatch with a search consultant is simply in communication style — search consultants who call too often, or ones who won't return your call. In these situations, it's often best to simply start working with a different search consultant — one who you have a better rapport with.
If you find the search consultant isn't as helpful as you expected, remember that you're not the one paying his or her salary.
ADDITIONAL READING TO HELP YOU MAKE THE BEST FIRST IMPRESSION
Top 5 Tips For Making The Best Impression With Recruiters
What Should Yo Do Now That a Recruiter Has Viewed Your LinkedIn Profile?
7 Notables Every Executive Should Know When Working With Recruiters