Certified Resume Writer, Personal Branding & Job Search Strategist, Career Coach and Your Career Partner for Success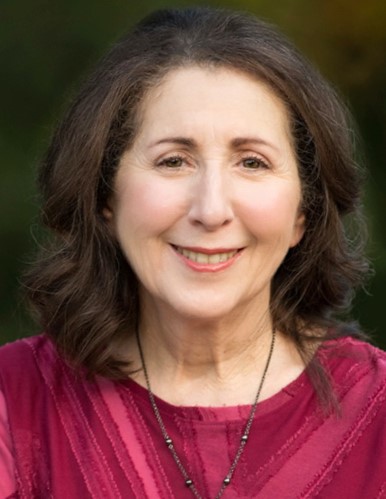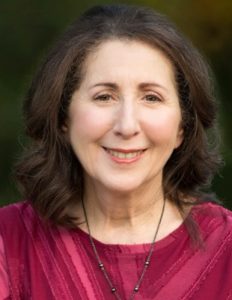 Helping professionals just like you discover their UNIQUE talents and find the WORK THEY LOVE has been my passion for decades. I've been fortunate in that I love every part of my career, partnering with professionals and experts worldwide to:
Land satisfying jobs with higher compensation
Find a new level of fulfillment by changing their careers and/or industries
Advance to their next level of growth
Secure a board of director's seat
Venture in a new path in post-retirement
TO PROCEED – simply click here to schedule an initial consultation. From there, we will put together a plan, depending on your resume preparation, coaching, unique career situation, and needs.
"Louise Garver is a consummate professional and a multiple executive resume-writing award winner who is known as one of the top resume writers and career coaches in our industry. She is committed to professional development through her continual efforts to serve on our Certification Board for resume writers and other activities."– Frank Fox, Executive Director, Professional Association of Resume Writers and Career Coaches (PARWCC)
---
Clients I Work With
My clients are professionals who know where they're going, value collaborating with a career expert to maximize their efficiency and optimize their results, and want assistance in gaining the competitive advantage in their search.
They are employed in diverse industries at such organizations as Dell, Microsoft, GlaxoSmithKline, Johnson & Johnson, Pfizer, Apple, Edward Jones, Genentech, SAS Institute, Google, Marriott International, Whole Foods Markets, Kaiser Permanente, Yale University, MassMutual, Aetna, Cigna, United Healthcare, Anthem Blue Cross Blue Shield, Harvard University, Goldman Sachs, American Express, Cisco, PCL Construction, Deloitte, Accenture, Nordstrom, Capital One Financial, American Cancer Society, and more.
---
Why Hire Me?
1. I Will Help You Achieve Your Goals Quicker Based On My Credentials, Career Industry Expertise, and Years of Experience
My background in human resources/recruiting, employee outplacement, management in corporate environments and career coaching is complemented by more than a dozen careers industry certifications and an advanced degree in career counseling. This rare combination of credentials and experience gives you a distinct advantage. It's the foundation for understanding the job search market to position you effectively. As a result, I will help you reach your goals faster than you would without a job-search strategist.
See more resume writing and career coaching testimonials.
See also a list of media mentions and publications that feature my branded resumes and cover letters.
Your advice has never let me down
, and your positive attitude has been a great source of inspiration for me during a difficult time of transition. You've really made all the difference in helping me find the right position.
– Alice S., Marketing and Brand Management Executive
2. I Genuinely Understand Your Career Situation and Career Coaching Needs
I understand the frustration that comes from a non-performing resume or a poorly executed job search. And, I can empathize with the intense disappointment when interviews never materialize, even when it seems you'd be a great match for the position. My goal is to give you the tools along with the support you need to win.
To truly showcase your value requires laser-sharp powerful writing with a specific, defined purpose. I accomplish that with my in-depth, tailored approach to uncovering your unique success stories and identifying the ROI you'll bring to an employer.
The first resume I sent out that you created opened the door to an interview at my next level. It led to an offer at a significant jump in salary. You are OUTSTANDING! Everyone could benefit from your help! There just aren't any words to say thank you adequately.
– Dennis M., Sr. Vice President of Sales
3. I Know What Works for Professionals in Today's Market
It's vital to be well versed about the ever-changing employment market for job search. My approach to high-level job-search centers on time-tested strategies that work.
I thought it was a long shot to rise above the national competition for a CEO position with a prestigious organization—my ideal job. As my coach, you were confident that I would get the offer and guided me through every step of the way, overcoming a series of challenges. Your resume opened the door and your expert coaching provided the high-level strategy I needed to win. You'll be even busier now with all the referrals I am sending your way! You're a gem!
– David V., CEO/President

4. I Provide the Exact, Personalized Services You Need
My objective is simple … to provide a clear roadmap with the best tools you need to reach your professional career goals at the compensation you are worth. Not only do I craft powerfully written resumes and related career marketing documents, but I can also coach you in implementing an entire system of personalized job search. Nothing generic… no templates … no one-size-fits-all. We will work together to pinpoint the combination of services to advance your job search.
The process is easy – simply click here to schedule an initial consultation, and from there, we will put together a plan, depending on your unique career situation and needs.
Louise came highly recommended from a recruiter I was referred to, and I soon learned why. Her ability to capture my strengths, career brand, and potential into a strong resume is exceptional. An excellent strategist with a solid grasp of the job market, she prepared me for a successful job search, including building an online presence that attracted attention by decision makers at my target companies. I didn't realize just how much I didn't know about the intricacies of job search today. I learned a repeatable process that will serve me well in my next career move. In the meantime, I landed a great position at a significant jump in salary.
– Martin S., Chief Operating Officer

A Little More About Me…
Following my human resources/recruitment and award-winning marketing communications management career in corporate America, I established Career Directions Intl, LLC to help my clients pinpoint their passions, skills, and value proposition because everyone deserves to have a career they love. In addition, I have helped professionals transition as an outplacement specialist during corporate reductions-in-force and, for many years, recruited new talent for various organizations—keeping my finger on the evolving pulse of the world of work.
I provide resume writing, LinkedIn profile writing, career coaching, personal branding, and job search strategies to professionals located worldwide.
On a personal note… I'm a native of New York State, but I've lived in every region of the country. I'm currently in the Midwest. It's fascinating to meet people from all walks of life. These life experiences have been invaluable, especially since I work with diverse clients from all over the country and the world.
Outside of the office, I spend time with family and friends, visit museums (all types), go to the theater, and create in the kitchen (I'm a foodie). The beauty of nature inspires me. I love walking, observing wildlife, and gardening has become a new interest. As an East Coast person at heart, the ocean captivates me.
I relax with mindful meditation, which instills discipline, patience and a positive state of mind. It's taught me how to problem solve creatively—so beneficial in all areas of life.
---
Credentials & Affiliations
Along the way in my career, I've earned awards for best resumes and cover letters from the Professional Association of Resume Writers and Career Coaches (PARWCC), am featured as a career expert writing articles/blogs for ExecuNet, Blue Steps and other career organizations, and my bio appears in more than 1200 professional association websites' career pages as a career expert for members to contact.
I'm also frequently tapped for and quoted by the media in the New York Times, Wall Street Career Journal, Hartford Courant, Forbes, and other notable publications.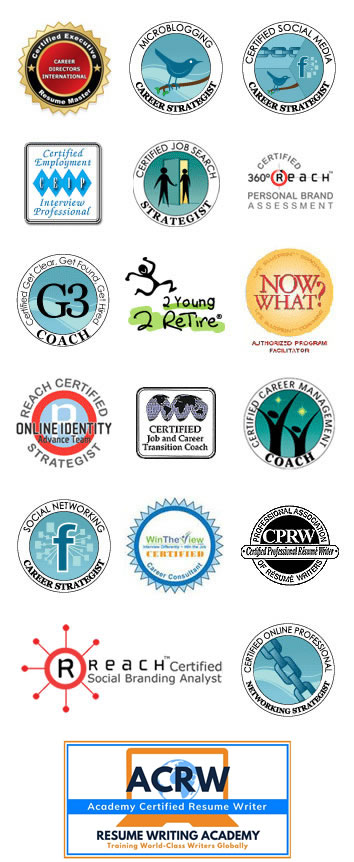 My certifications and degrees:
Certified Executive Resume Master (CERM);
one of only 25 who currently holds this designation worldwide
Academy of Certified Resume Writers (ACRW)
Certified Job Search Strategist (CJSS)
Certified Professional Resume Writer (CPRW)
Certified Personal Brand Strategist (CPBS)
Certified 360 REACH Personal Brand Analyst
Certified Online Identity Strategist (COIS)
Certified Online Professional Networking Strategist (COPNS)
Certified Career Management Coach (CCMC)
Certified Get Clear, Get Found, Get Hired Career Coach (CG3C)
Certified Social Media Career Strategist (CSMCS)
Social Networking Career Strategist (SNCS)
Microblogging Career Strategist (MCS)
Internationally Certified Job and Career Transition Coach (IJCTC)
Internationally Certified Career Management Professional (CMP)
Master Career Development Professional (MCDP)
Certified Life Blueprint Facilitator™ (CLBF)
Certified Retirement Coach (2Young2Retire™)
Certified Interview Coach (CIC)
Certified WintheView™ Interview Consultant
Reach Certified Social Brand Analyst
Master's Certificate in Career Counseling
Master's Degree in Counseling Psychology
My affiliations consist of active membership in several career organizations that enable me to engage and learn from other careers-industry leaders:
Career Thought Leaders (CTL)
Professional Association of Resume Writers and Career Coaches (PARWCC)
National Resume Writers Association (NRWA)
Association of Career Professionals International (ACPI)
National Career Development Association (NCDA)
American Counseling Association (ACA)
Career Directors International (CDI)
International Coach Federation (ICF)
Institute of Career Certification International (ICCI)
REQUEST SERVICES
Do you need help with writing your resume? If so, contact me for a no-cost, 15-minute consultation to discuss your current situation and what you're hoping to accomplish with this latest job search.