Who I Work With — Overview of My Clients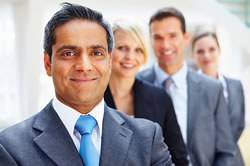 Who I work with are professionals from all walks of life.
My clients generally have one thing in common when they first reach out: they want an executive-level position that uses their unique talents with higher compensation and professional satisfaction.
If you feel overwhelmed or "lost in the job market jungle," you are not alone.
---
We Work with Executives Who:
Need a strategic positioning resume or other career marketing documents that exemplify their brand to rise above the competition
Are bewildered by web 2.0 technology and the tight job market
Know what they want to do, but don't know the best way to achieve it
Need to know where the jobs are and want a roadmap to find them
Want to reach new career heights through a challenging new position
Need to stop spinning their wheels in frustration and jump-start a stalled job search
Need coaching on how to interview and/or negotiate the compensation package they deserve
Are confused about what they want to do next with their career
---
Your job or career change may be your own choice, or it may have been forced on you. Either way, you have to have a plan, and then you have to work the plan. Without focused effort, the right strategy and the best tools, you can expect it to take longer than you hope to get to where you want to be.
If you are changing your job, your occupation or your industry, or fear you may lose your job, take charge of your career.
Read more about the results you can expect when you work with us.
How We Work