Who I Work With — Overview of My Clients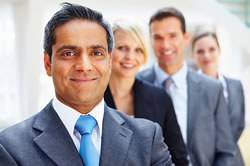 I work with professionals from various industries. I provide one-on-one career coaching and an in-depth resume writing intake process to ensure you get the best support.
The added attention I provide clients is
essential to career success

.

At your career level, it's important to have a skilled, experienced, and professional career professional like me in your corner.

Professionals generally have one thing in common when they first reach out: they want a position that uses their unique talents and offers higher compensation and professional satisfaction.

If you feel overwhelmed or "lost in the job market jungle," you're not alone.
---
I Work with Professionals Who:
Need a strategically positioned resume, cover letter or other career marketing documents that exemplify their brand to rise above the competition
Are bewildered by web 2.0 technology and the tight job market
Know what they want to do, but don't know the best way to achieve it
Need to know where the jobs are and want a roadmap to find them
Want to reach new career heights through a challenging new position
Need to stop spinning their wheels in frustration and jump-start a stalled job search
Need career coaching and advice on how to interview and/or negotiate the compensation package they deserve
Are confused about what they want to do next with their careers
---
Your job or career change may be your own choice, or it may have been forced on you.
Either way, you have to have a plan, and then you have to work the plan. Without focused effort, the right strategy and the best tools, you can expect your job search to take longer than you hope to get to where you want to be.
With my help, I can help you:
Find ideal opportunities
Better manage your time, and more specifically, your job-search efforts
Identify any negative patterns or bad habits that could be hindering your career success
Build your confidence and help reassure you during a potentially stressful time
If you're changing your job, occupation or industry, or fear you may lose your job, I offer career transition coaching to help you get better results.
Read more about the results you can expect when you work with me. I also recommend reading these client success stories as well.
REQUEST SERVICES
Do you need help with an upcoming job search? I'd be happy to discuss your specific job search needs and what you're hoping to accomplish with this latest job transition. Complete the below form and let's get started.