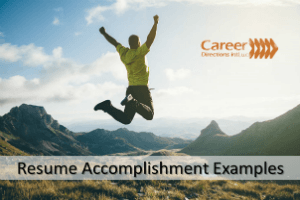 If you need to know how to add more resume accomplishments, you're in the right place.
In this article, we'll show you how to identify and optimize your top career successes.
So, why are accomplishments so important?
They are important because they are the key career notables that will set you apart.
It's one thing to claim you can do something (e.g. grow sales teams).
It's better to show how well you've done it (e.g. grew sales staff by 23% and expanded market share by 88.9%).
Listing professional accomplishments are advanced resume strategies that everyone should be using.
This is a key reason for including accomplishments within your resume.
Hiring companies want professionals who can improve the business/department/team.
Resume accomplishments focus on core areas, such as:
Sales & Revenue Increases
System & Tool Introductions
Cost & Overhead Elimination
Staff Transformations
Here Are Tips on How to Best Write Resume Accomplishments & a Few Ideas/Examples To Help.
Start by writing your most obvious job successes with each employer.
For example, a sample achievement for your resume might look something like this: 
When I joined Salco in the Fall of 2015, the company was a mess. The company had few systems, and it seemed like the company had way more employees than it needed. I introduced the SAP material management module. I then proceed to transforming their company inventory/supply chain. This saved the company a lot of money and cut warehouse staff.
With the above, you can now write an accomplishment more appropriate for your resume.
The above example could then transform into something like this:
Introduced SAP MM to Salco, which transformed the tracking of $79.3M in inventory. Cut inventory tracking time by approx. 13.5%, while reducing 9 WHS positions (8 FTE/1 PTE). Saved an estimated $1.58M in the 12 months through staff reduction and error elimination.
Not bad, right? 🙂
Of course, these big "wins" are easy to remember — though might take a bit of legwork to track down specific numbers.
Let's say you don't have any sizable accomplishments in your career.
In this scenario, highlight what you accomplished being part of a team.
So, a support-based achievement might be something like this:
Worked with the sales team during a merger with Xaneco in 2013, which upgraded sales volumes from $45.3M in 2012 to $67.1M by year-end 2013. Supported the on-boarding and training of 23 additional sales reps.
Whenever possible, focus on your BEST successes.
I realize this isn't always doable, especially for those who aren't within heavy "bottom-line driven" job roles.
If you're not convinced it's worth your time tracking achievements, there are additional reasons to do so:
–       For performance evaluations or an annual review
–       To set your personal and professional goals for the next year
–       To track the progress of projects you're working on
–       To support your candidacy and qualifications in a job interview
–       To make the case for a raise or promotion
–       To remind you of your achievements when you're having a bad day
–       To apply for recognition (awards)
Quantifying your accomplishments also helps you stand out from others who do the work you do—whether you're using the info for a bump in pay or seeking new opportunity.
But accomplishments go beyond the basic job duties and responsibilities.
Keep Track of YOUR Job Accomplishments to Highlight & Use Later
Start by noting the easy stuff:
What has changed over the last year?
Focus on the significant career successes that are top of mind:
What project did you work on and complete successfully?
The key business issue you resolved?
There are several ways you can collect your accomplishments:
Online. You can create a Microsoft Word file to document your achievements. In your email program, you can create a folder for accomplishments and send yourself emails to store in that folder. You can also use an app like Evernote.

When you receive a "kudos" email, forward a copy to your personal email account. To help you organize it, tag or label it with a specific subject line (like "Kudos").
You should also print out and/or take a screenshot of any LinkedIn recommendations you have on your profile. These are an important part of your accomplishments record as well.
Offline. Something as simple as a file folder or notebook can be used to track your achievements.

Keep performance reviews and highlight what could be added to the resume.
If you receive notes of appreciation from customers, coworkers, or your company, compile those. You can make a copy and keep it in hard copy form, or take a screenshot and keep a digital copy.
How often should you update your resume with new accomplishments?
As often as necessary.
For some, it could be frequent updates.
For others, that could mean yearly updates.
The most important thing is to take the time to do this on a consistent basis.
Put an alarm or task reminder on your calendar so you remember to set aside the time to track your accomplishments regularly.
Whether updating your resume yourself or hiring a professional resume writer, have your accomplishments collected and organized for easy use.
Job Accomplishment Examples For Your Resume 
Before I close out this article, I have several samples of "fill in the blank" accomplishments that you can use to identify accomplishments for your resume. Here we go:
Introduced ___ system, which reduced invoice errors by ___%.
Cut costs by ___% by doing ___ and ___.
Increased revenue by $___ after implementing ___.
Built a recession-proof client portfolio by doing ___.
Received ___ award for ___.
Recognized ___% over quota in ___.
Achieved ___ in annuity donations in just 6 months – first in non-profit history.