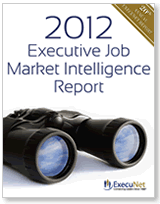 The 2012 Executive Job Market Intelligence Report by ExecuNet, contains an abundance of information regarding executive hiring and the job market. Whether you are an employed executive happy with your current position (48% expect to stay with employer), perhaps considering just testing the waters (31% thinking about leaving employer), or wrapped up in full job search mode, the following information (summarized from the full report) can be quite valuable.
Top industries predicted for executive job growth:
1. Healthcare
2. High Technology
3. Manufacturing
4. Business services
5. Energy/utilities
6. Life sciences (pharma/medical/biotech)
7. Consumer products
8. Internet/online services
9. Clean/green technology
10. Financial services
What is significant about this list is that in 2010 manufacturing was listed 10th and in 2012 it is listed 3rd. That is quite a climb in two years. There is a resurgence of companies that are reinvesting in human capital and management leadership.
Executive Job Creation Growth
Executive recruiters anticipate 51% of employers will "trade up" with new hires for existing executive jobs, and 27% will add new executive level roles. Only 2% are expected to eliminate executive positions. That is a very positive perspective for job growth. And, eight out of 10 employers said they would work harder to retain top executive talent.
Business needs and executive talent
Executive recruiters reported these top 5 executive management functions as most needed in 2012:
1. Sales and sales enablement
2. General management/leadership
3. Marketing (go-to-market strategy/development and market research)
4. Financial management
5. Innovation
It has been said over and over that networking still holds the highest value when looking for job opportunities. Networking is key to connecting with the right people and finding job opportunities on both sides of the spectrum. Recruiters have admitted that their networking averages about 57%, and an executive networks about 66%. The Intelligence Report states: " … purposefully networking isn't a medium only for executive career advancement. Executive recruiters and corporate employers are likewise investing more time, energy and capital to turn business networking into a highly efficient source of superior management talent for recruiting and upgrading their management bench strength."
The few statistics and information provided above only graze the surface of the rich content in the 2012 Executive Job Market Intelligence Report. This 12-page report is well worth the time to download and read in full. Download the full report