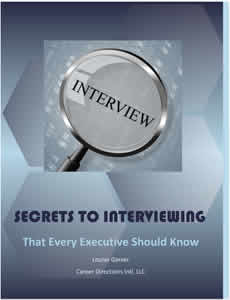 The goal of the resume is to get you a job interview. Once you secure an interview, researching and preparing for the interview is important. The interview process is what trips up many executive candidates.
Learn the secrets behind the different interview styles, discover important interview questions and answers, explore follow up strategies, job offers, and salary negotiations. This ebook also contains valuable worksheets and bonus materials.
Secrets to Interviewing gives you the information you need to feel confident in an interview and successfully negotiate salary and job offers.